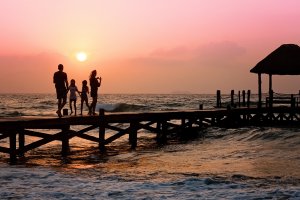 Did you know that the more quality time kids have with their family, the better their overall quality of life is? When families spend time together, the whole family benefits – relationships are strengthened, social skills are sharpened, and much more. Check out a few family-friendly activities your kids will surely love:
Enjoy a Night Out
Dedicate one night a week for family fun. Several family-friendly activities include playing board games, watching a movie, planting a garden, or making s'mores at a campfire. But, our absolute favorite family-friendly activity is roller skating! This activity can actually help your kids do better in school. With summer right around the corner, roller skating is a great way to keep them motivated and have fun at the same time.
Plan a Vacation
When's the last time your family enjoyed a vacation together? Vacations often provide memories that will last a lifetime! The cool element of planning a vacation is that you can customize it to fit your needs. You can plan a day-trip vacation to places such as Orlando, Crystal River, or Daytona. Or, you can plan a week-long vacation and enjoy getting away from your day-to-day scenery.
Host a Scavenger Hunt
Kids of all ages enjoy a good scavenger hunt with a pot of gold at the end! (You can substitute the pot of gold with yummy treats or even a couple dollars for an incentive.) Plan a scavenger hunt and divide the family into two teams. Hide clues all over the house and lawn until they find the prize! This will be a fun way to spice up a regular evening.
The team at Skate World hopes your family benefits from these activities (especially roller skating)! Check out our hours, then skate with us today.