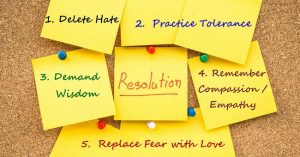 Can you believe another year has come and gone? With 2017 quickly coming to an end, it's that time of year again: it's time to start thinking about New Year's Resolutions! Here at Skate World in Leesburg, Florida, we know that making (and keeping) resolutions can be difficult. But this year, try following our lead and make your resolutions simple and fun!
Have More Fun!
At Skate World, we're keeping our resolutions realistic, simple, and fun this year. First, we want to allocate more time for having a good time! It seems crazy, but sometimes we can forget to just let loose and enjoy life. Setting time aside to do something fun with the family is its own reward and is an easy resolution to keep.
Live Healthier
This year, we hope you'll join us in resolving to live a healthier lifestyle! Luckily, you can get all the exercise you need while having a great time simply by rolling in to skate during our open skating hours. Roller skating and inline skating are great ways to get your heart rate up and have fun with the whole family!
Spread Kindness
Being kind and spreading kindness is another one of those things that you always mean to do, but it can get lost in the craziness of life. This year, our goal is to be kind and spread joy to as many people as possible. Kindness also happens to be contagious! So if you want to join in on this resolution, all you have to do is come have some fun at Skate World and take your great attitude with you when you leave!